Allergies Meds Delivered
Looking to buy Allergies online? Get your Allergies medications like Augmentin, Calcium, Bacitracin, etc. delivered to your doorstep. Just upload your prescription, consult with our pharmacists and we will deliver your daily medications right to your doorstep.
Meds sorted by dose & time
Automatic refills & renewals
Manage loved ones' medications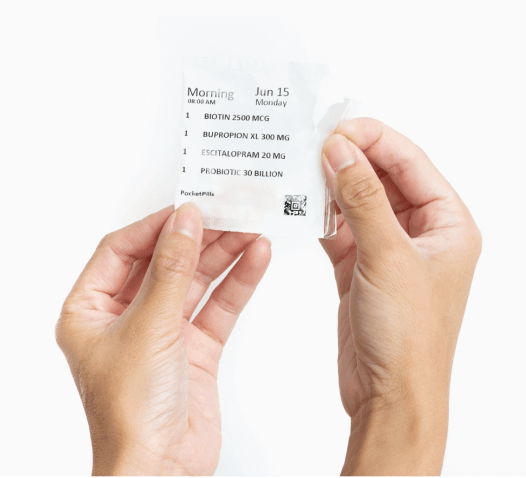 Save Cost on Allergies Medications
Allergy medications are available as pills, liquids, inhalers, nasal sprays, eye drops, skin creams, and shots (injections). At PocketPills, we are dedicated to providing the highest standard of care to our members at the most affordable prices.
Need Allergies Meds?
People can be allergic to food, pets, pollen, mold, and many other seemingly innocuous substances. After being exposed to the substance, the body will produce an allergy response that causes symptoms like Dry, peeling & red skin, or Itchy, red, watery eyes or nose. Symptoms of seasonal allergies range from mild to severe. The most common include sneezing, stuffy nose, itchy eyes, ear congestion, or postnasal drainage.
People love Pocketpills
My experience was wonderful and I am happy for making it so easy for me. The medicines were delivered on time. Thanks to the staff for doing a wonderful job.
Great first experience with pocket pills. Had my prescription within the next day. Speedy service, and $30 cheaper than Shoppers Drugmart.
I wasn't happy with my current local pharmacy, and decided to give PocketPills a try, but was running low on an important med. The care team assembled my order quickly, set me up with PocketPacks (free btw) and got it out to me in Ottawa overnight. Great service, short wait time when calling for support, and they communicate by phone or text, which is super convenient for me. Very happy customer. Wish I'd done this long ago. Will be recommending to family and friends.
READ MORE
Frequently asked questions
Your immune system protects you from potentially harmful substances. An allergy occurs when your immune system overreacts to a harmless substance. These substances that trigger an allergic reaction are known as allergens. Some examples include pollens, medications, bug bites, food items, and dust.
What will my doctor do to help my allergies?
arrow_downward
First, they'll figure out what you're allergic to. They'll examine you and ask for your medical history and your family's allergy history. Then they may do a series of skin or blood tests to see what you have a reaction to. That'll help decide which treatment you should take. Or they may suggest a medicine that can help no matter what you're allergic to. They can often help with reactions to pollen, dust, perfumes, plants, or animal dander.
How do I avoid things that trigger my symptoms?
arrow_downward
Get rid of those things at home and work. Look for possible triggers like pet dander, dust mites, cold air (from an air conditioning vent or ceiling fan), cigarette smoke, perfume or other scented products, and aerosols. Pay attention to pollen counts, too. If you have both allergies and asthma, use an air filtration system at home.
What's the difference between an allergy and an allergen?
arrow_downward
The allergen is the thing you're allergic to. With an allergy, you may sneeze, cough, wheeze, itch, or have a skin rash.
What are some common allergens?
arrow_downward
The ones that cause the most trouble are:
Pollen

Mold and mildew

Dust mites

Pet dander

Cockroaches

Feathers

Industrial chemicals

Foods like shellfish, eggs, milk, wheat, nuts

Medicines like aspirin and penicillin

Food Additives
What if I have symptoms just a few weeks a year?
arrow_downward
You probably have seasonal allergies, also known as hay fever. Blame trees in the spring, grasses in summer, or weeds in the early fall. Outdoor mold also can cause it, too.
Both my partner and I have allergy symptoms all the time. Will our baby have allergies, too?
arrow_downward
It's more likely. If one parent has allergies, the child has a 50% chance of having them. If both parents have allergies, the odds are higher. But it's not just from Mom and Dad. Respiratory infections, air pollution, and diet may play a role.
Top prescribed Allergies drugs
Required in all British Columbia Pharmacies. Pharmacy practice issues may be reported to the College of Pharmacists of BC