Antibiotics Meds Delivered
Looking to buy Antibiotics online? Get your Antibiotics medications like Augmentin, Calcium, Bacitracin, etc. delivered to your doorstep - Just upload your prescription, consult with our pharmacists and we will deliver your daily medications right to your doorstep.
Meds sorted by dose & time
Automatic refills & renewals
Manage loved ones' medications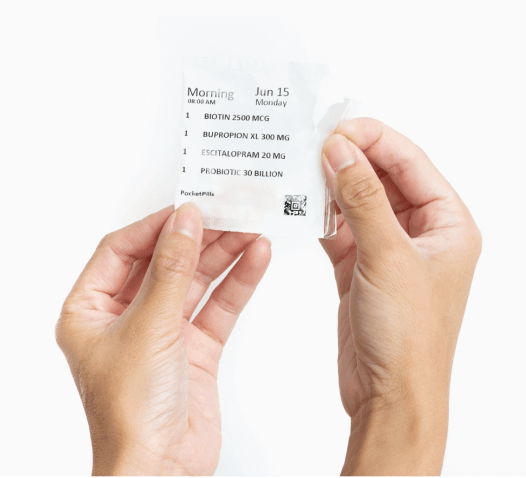 Save Cost on Antibiotics Medications
You can save cost on your antibiotics medications with PocketPills including medications for infections, anto-bacterial medications etc. Because of its technology, PocketPills is able to save costs and pass those savings to consumers.
Need Antibiotics Meds?
At PocketPills, we provide a range of Antibiotics Meds including Bacitracin, Neosporin, vancomycin, Augmentin, Calcium, and Amoxicillin.
People love Pocketpills
Very happy that all that waiting at my old pharmacy is over! I asked them to help me process the transfer and they did everything for me, just gave them my pharmacy's contact & that's it. I'm just waiting for my meds to come knocking at my door today
I called Pocket Pills to help me understand the charges for some of my husband's meds. I spoke with Yanna. She called ODB and my private insurance company to confirm some of the numbers. Then she called me back within 30 minutes, carefully explained the charges and made certain I understood. Yanna is highly professional, knowledgeable about her work, was patient with my questions and she is all-around excellent. Thank you Yanna! Great customer service
READ MORE
I just got my first packs. excellent service and so much smaller than all those blister packs.The pharmacists went above and beyond when Canada Post lost a parcel of my meds. They worked to get me an emergency supply and new packs out to replace them
Frequently asked questions
Antibiotics are medicines that fight infections caused by bacteria. Antibiotics can be in the form of pills or liquids. Examples include Calcium, and Amoxicillin.
Do I need a doctor's prescription for Antibiotics?
arrow_downward
Antibiotics are prescribed by a doctor, nurse practitioner, or dentist and picked up from a pharmacy. Different antibiotics are required depending on the type of infection and the bacteria involved. This decision is best left to your healthcare provider.
What are Antibiotics used for?
arrow_downward
Antibiotics fight infections caused by bacteria. Sometimes antibiotics are given to prevent infection but only in special situations such as prior to some surgeries or when a person's immune system has been altered. Antibiotics DO NOT work against viruses (such as colds and flu).
Does it really matter when or how often I take my antibiotics, as long as it is the same day?
arrow_downward
Yes, it does matter. Your antibiotics will come with directions for how much to take, at what times of day, along with other directions, such as "take with food" or "keep refrigerated." Different types of antibiotics work in different ways and following instructions will ensure a better treatment outcome.
How can I tell if I am allergic to Antibiotics?
arrow_downward
Hives, rashes, or trouble breathing may mean you are allergic to the type of antibiotic you are taking. You should seek medical advice as soon as possible.
Do antibiotics have side effects?
arrow_downward
Medicines like antibiotics can have side effects. Upset or sore stomach and loose stools are common complaints and do not mean you are allergic to them. If symptoms persist after finishing the antibiotics, or if you develop a rash or severe diarrhea, see your doctor right away.
Top prescribed Antibiotics drugs
Required in all British Columbia Pharmacies. Pharmacy practice issues may be reported to the College of Pharmacists of BC