Blood Pressure Meds Delivered
Looking to buy Blood Pressure online? Get your Blood Pressure medications like Augmentin, Calcium, Bacitracin, etc. delivered to your doorstep. Just upload your prescription, consult with our pharmacists and we will deliver your daily medications right to your doorstep.
Meds sorted by dose & time
Automatic refills & renewals
Manage loved ones' medications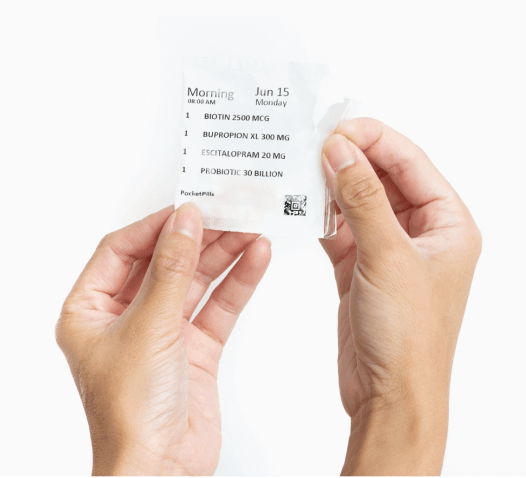 Save Cost on Blood Pressure Medications
High blood pressure medications exist to help people with hypertension get their blood pressure to a more acceptable level. At PocketPills, we provide a range of Blood Pressure Medications including Amlodipine, Candesartan, Atenolol, Aventyl, Carvedilol, etc. High blood pressure often goes hand in hand with other health problems like Kidney and Heart Disease.
Need Blood Pressure Meds?
Medications used for hypertension can cause side effects. Mild side effects of high blood pressure medications include stomach upset, dizziness, weakness, nausea, vomiting, and headache. As one might expect, all medications that are used for high blood pressure can cause low blood pressure if used in too large of a dose.
People love Pocketpills
Very happy that all that waiting at my old pharmacy is over! I asked them to help me process the transfer and they did everything for me, just gave them my pharmacy's contact & that's it. I'm just waiting for my meds to come knocking at my door today
I called Pocket Pills to help me understand the charges for some of my husband's meds. I spoke with Yanna. She called ODB and my private insurance company to confirm some of the numbers. Then she called me back within 30 minutes, carefully explained the charges and made certain I understood. Yanna is highly professional, knowledgeable about her work, was patient with my questions and she is all-around excellent. Thank you Yanna! Great customer service
READ MORE
I just got my first packs. excellent service and so much smaller than all those blister packs.The pharmacists went above and beyond when Canada Post lost a parcel of my meds. They worked to get me an emergency supply and new packs out to replace them
Frequently asked questions
What is high blood pressure?
arrow_downward
Blood pressure is defined as the force of the blood flowing through your blood vessels. Although you may not experience symptoms, high blood pressure can be damaging to critical organs and may lead to life-threatening conditions such as heart failure, stroke and kidney disease.
What are the new blood pressure guidelines?
arrow_downward
One of the main changes made to the blood pressure guidelines is the redefinition of what high blood pressure is. The new guidelines are as follows:
Normal—Less Than 120/80

Elevated—130-139/80-89

High Blood Pressure (Stage 1)—130-139/80-89

High Blood Pressure (Stage 2)—140-180/90-120

Hypertensive Crisis—More Than 180/120*
why the change in blood pressure guidelines?
arrow_downward
The change in blood pressure guidelines is due primarily to the study of the risks of high blood pressure in patients over time. Experts believe that these new guidelines, if followed correctly and consistently, will assist more patients in avoiding preventable conditions such as heart attack and stroke through proper management of blood pressure earlier than before.
what are the health risks associated with high blood pressure?
arrow_downward
According to the American Heart Association, high blood pressure can cause a number of life-threatening conditions, including:
Stroke

Heart Failure

Heart Attack

Kidney Disease or Failure
What do the numbers mean?
arrow_downward
Blood pressure is measured using two numbers, written with one over the other. For example, 120/70 would be read as "one-twenty over seventy." In this example, 120 refers to the pressure of your blood against blood vessels when the heart is actively pumping, while 70 refers to the pressure on your artery walls when your heart is at rest between beats.
What are some ways you can prevent or manage high blood pressure?
arrow_downward
The best way to prevent or manage high blood pressure is through proper diet, regular exercise and consistent weight and stress management. Lowering your sodium intake through reducing your consumption of salt and processed foods, reducing your daily caffeine intake and establishing an effective and appropriate exercise routine are good places to start.
Required in all British Columbia Pharmacies. Pharmacy practice issues may be reported to the College of Pharmacists of BC