Mental Health Meds Delivered
Upload your mental health prescription via web or PocketPills app & leave the rest to us, worry free.
Meds sorted by dose & time
Automatic refills & renewals
Manage loved ones' medications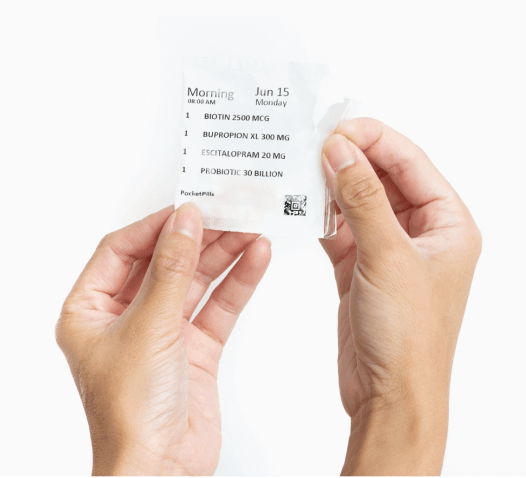 Save Cost on Mental health Medications
Order mental health meds online hassle free and get consultations and local delivery at no extra costs.
Need Mental health Meds?
Medications used for mental health can cause side effects. Mild side effects of mental health medications include drowsiness, dizziness, restlessness, weight gain, dry mouth, constipation, nausea and vomiting.
People love Pocketpills
Very happy that all that waiting at my old pharmacy is over! I asked them to help me process the transfer and they did everything for me, just gave them my pharmacy's contact & that's it. I'm just waiting for my meds to come knocking at my door today
I called Pocket Pills to help me understand the charges for some of my husband's meds. I spoke with Yanna. She called ODB and my private insurance company to confirm some of the numbers. Then she called me back within 30 minutes, carefully explained the charges and made certain I understood. Yanna is highly professional, knowledgeable about her work, was patient with my questions and she is all-around excellent. Thank you Yanna! Great customer service
READ MORE
I just got my first packs. excellent service and so much smaller than all those blister packs.The pharmacists went above and beyond when Canada Post lost a parcel of my meds. They worked to get me an emergency supply and new packs out to replace them
Top prescribed Mental health drugs
Required in all British Columbia Pharmacies. Pharmacy practice issues may be reported to the College of Pharmacists of BC
Sign in to join our 100k+ satisfied members: